Porcelain Veneers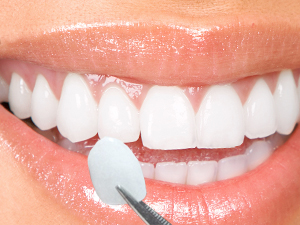 If your teeth are stained, misshapen or crooked, they may be improved by a veneer placed on the surface of the affected teeth.
Porcelain dental veneers are made of strong, durable ceramic that can mask a number of dental imperfections, including gaps, chips, stains, and even misalignment. They can last for decades and are designed to match your surrounding teeth for a natural appearance. Veneers are essentially a "shell" or layer of tooth-colored porcelain or composite placed over the surfaces of your teeth to correct worn tooth enamel, uneven tooth alignment or spacing, discoloration and chips or cracks.
Although dental veneers fall into the category of cosmetic dentistry because they create bright, white smiles with beautifully aligned, shapely teeth, they also protect the surface of damaged teeth and may eliminate the need for more extensive treatments. Other benefits of veneers include durability, an improved smile appearance, and the need for little-to-no removal of tooth structure compared to crowns.
Typically, veneers are done in at least two appointments: diagnosis and preparation, and then the actual bonding.
During the tooth preparation visit, your teeth will be lightly buffed to allow for the minimal (usually half a milimeter) added thickness of the veneer. During the same visit, a mold will be taken of your teeth. The molds are then sent to the laboratory for the precise fabrication of your new veneers.
At the final "bonding" visit, the veneers are placed on the tooth surface with water or glycerin on the teeth to check their fit and to confirm the shade matches the rest of your teeth. While the veneers are resting on your teeth, they can be adjusted with various shades of cement to match the color of your teeth. To apply the veneer, the tooth is cleansed with specific chemicals that help us achieve an incredibly strong bond between tooth and veneer. Then a special cement is sandwiched between the veneer and tooth, a visible light beam, or laser, causes a hardening of the cement.
During a two-week period of adjustment that follows, you may notice the change of size and shape in your teeth. It is important to brush and floss daily. After one or two weeks, you`ll return for a follow-up appointment. Porcelain veneers are reasonable facsimiles of natural teeth, not perfect replacements. It`s not uncommon to see slight variations in the color of porcelain veneers upon close inspection, as this occurs even in natural teeth.